Navigation: Home Products InSITE Analyzer Confocal Micro Raman
Instruments for Spectroscopy
Click the images to learn more:
---
The InSITE remote analyzer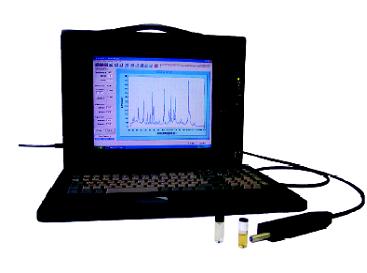 The new InSITE remote spectrographic chemical analysis system for in-situ analysis of deposits in nuclear power plants and other hazardous locations. Determines the composition of unknown deposits without removing or even touching a sample.
Enhanced performance for standoff detection explosives and explosive precursors.
Winner of the Top Industrial Practices Award from the Nuclear Energy Association for determining boric acid in nuclear power plant applications.
---
The Nanofinder Microspectroscopy Spectroscopy System
Confocal Raman Microspectroscopy is a indispensable technique for materials science, geology, biology, medicine, forensic science, and even arts and antiquities. Our Nanofinder provides the highest spatial resolution available and three dimensional imaging.
Designed for low level signal detection, the "Nanofinder 30"has applications in 3D Raman and photoluminescence imaging, single molecule fluorescence detection, Raman spectral and spatial analysis of a variety of materials such as semiconductors and semiconductor devices, CVD artificial diamond arrays, carbon nanotubes and living cells.
---
Zeta Potential Analyzer
NEW: The New Zeecom ZC3000 zeta potential analyzer:
Automatic Tracking of Particles by Image Analysis Processing
Direct observation of nano particles using scattered light.
The captured still images are saved every second,
which enable the remeasurements.
What is Zeta Potential? CLICK HERE for a description.
Application Fields
Environment
Water treatment, waterworks, flocculation agents, dispersants, flocculation control, microorganisms, planktons, asbestos, bubbles, soil, beneficiation technology, and etc.
Nano-materials
Functional material developmentArecording materials, pigments, ceramics, catalytic agents, polymers, carbon black, carbon nanotubes, inkjet inks, aqueous/non-aqueous solvent paints, fuel cells, coating materials (for automobile parts / electronic parts), paper manufacturing, surface active agents, and etc.
Life Science
Erythrocyte, biological cells, protein, DDS, liposome, vesicle, drug discovery, and etc.
Features
Zeta Potential Measurement
Microscopic electrophoresis method
Automatic tracking in image processing
Visual and manual measurement of individual particles
Image capture of particles
Image archive / Remeasurement function
PC-controlled instrument
Stage control / Voltage feedback control / Switching control for optical system
Analysis modes
Mobility / histogram / frequency curve / mean value / peak value / dispersion / flow velocity distribution / pH responsiveness / isoelectric point / digitization size and zeta potential / temporal change
Specifications
| | |
| --- | --- |
| Product model | ZEECOM ZC-3000 |
| Zeta potential measurement range | -200 to 200 mV |
| Mobility | -20 to 20 cm2/sec⋅V |
| Particle size range for zeta potential measurement | 20 nm to 100 µm |
| Supply voltage | 0 to 350V DC *Applicable voltage to electrodes (compatible with external power supply) |
| Weight | 25 kg |
| Power supply | AC100V 1A 50/60 Hz |
---
To Learn More: We want to hear from you! Please contact us be phone or e-mail:
Postal address

Symphotic TII Corporation
880 Calle Plano, Unit K
Camarillo, CA 93012 U.S.A.